Water Sports and Lakes Near Laughlin
Despite being located in the Mojave Desert, Laughlin and Bullhead City are able to offer visitors all sorts of water recreation because of the shimmering lakes formed by the Colorado River. Thanks to dams, this 1450 mile-long river is the source of three lakes near Laughlin… Lake Mead, Lake Mojave, and Lake Havasu.
Good News for Lakes Near Laughlin
Although most of the Southwest has been in a state of drought for nearly 30 years, the rain storms in the early part of 2023 have gone a long way towards replenishing the river's extensive system of dams and reservoirs that supply 40 million people with water. Lake Mojave, for instance, is now 92% full!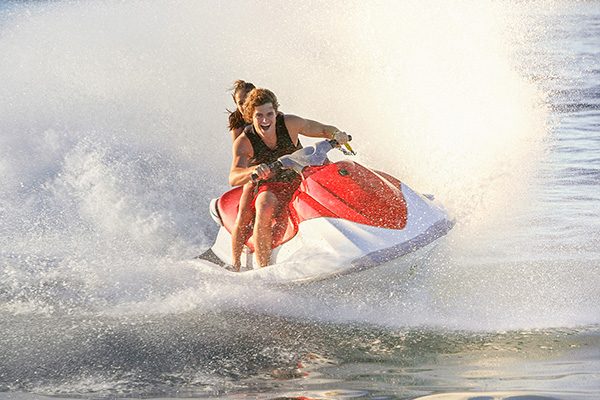 Lake Mojave
The closest of the three lakes near Laughlin, Lake Mojave is named for the Mojave Indians who once inhabited this area. In 1947, Davis Dam was built to create the reservoir known as Lake Mojave. The Lake's crystal clear waters are ideal for boating, fishing, and scuba diving. Davis Dam is the closest access to Lake Mojave from Bullhead City and it is only 7.5 miles away via Bullhead Parkway.
Lake Mead
Lake Mead is one of the largest reservoirs in the world and its water level has risen almost 10 feet so far this year, thanks in part to the volume of snowmelt in the Rockies. This is very good news for the swimmers, sunbathers, and kayakers who love the beaches of the Lake Mead National Recreation Area. With more than 700 miles of fishable shoreline, anglers can reel in bass, catfish, crappie, sunfish, and rainbow trout. Bring your boat and head to Lake Mead – the closest boat launch is about an hour and a half away via Veterans Memorial Highway.
Lake Havasu
Just about 65 miles south of Silver View Resort via I-40 and AZ 95, Lake Havasu features the actual London Bridge (relocated from England). Zoom around on your Ski-Doo, take a steamboat tour of the lake, swim, fish, and see replicas of the famous light houses that surround Lake Havasu. All the lakes near Laughlin are worth visiting and Lake Havasu offers the most diverse collection of water sports and unusual attractions you'll find anywhere.
Pro tip! With special savings at Silver View, you'll have more time and more money to enjoy the thrill of roaring around Lake Havasu on your Jet-Ski.
Colorado River Outside Your Door
Open the door of your RV, step out into the sunshine, and marvel at the Colorado River. Its life-giving waters sustain millions of desert-dwelling people and animals, and provide the perfect way for you to enjoy all your favorite water sports.
When you combine river-lore with our deluxe amenities, the fabulous desert scenery, and the sunny weather, the only decision you need to make is which of the lakes near Laughlin should I visit first? Come see us – you'll never want to leave.