Christmas Tree Pass – A Scenic Drive
At 12 miles one way, Christmas Tree Pass is generally considered to be a challenging hike, but as a scenic drive, it's way cool. Will you see Santa Claus? Nope. How about Christmas trees? No Christmas trees either, but you will see a few bushes that somebody decorated with holiday ornaments.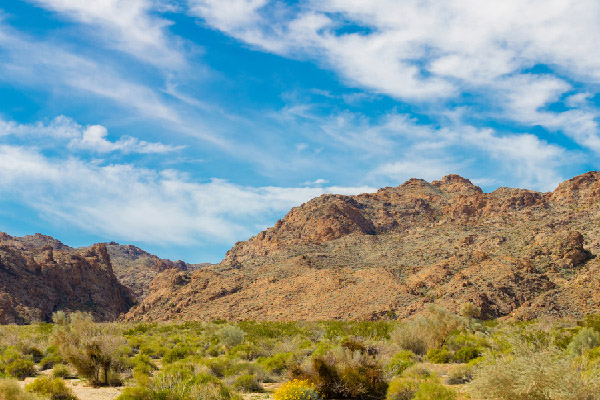 Getting to Christmas Tree Pass
The scenic drive will lead you over the Newberry Mountains in Southern Nevada. The road begins just outside Laughlin on NV Highway 163, and ends at the tiny town of Searchlight on US Highway 93. The road is mostly gravel, so if you have a high-clearance vehicle, that's great. A regular car will make it too, but go slow. You want to see the scenery anyway.
You will have the beautiful vistas all to yourself, because nobody lives on Christmas Tree Pass and there are no gas stations either, so fill the tank before you go.
Here's What You Will See on Christmas Tree Pass
You'll see gorgeous mountain scenery and dramatic views of the Colorado River and Laughlin below. When you get to the summit of Christmas Tree Pass, you'll see the vast Mojave Desert seemingly stretching on forever. That's not all, though. The same road will take you to a trailhead in the Lake Mead National Recreation Area where you'll find some Native American petroglyphs that may be 900 years old.
Visit Christmas Tree Pass Anytime of the Year
When you are looking for safety, security, comfort, and convenience, all those things can be yours in welcoming Bullhead City. You owe it to yourself to discover the blue skies, great amenities, and friendly management when you discover Silver View Resort in Arizona.
Your quest for an RV adventure could easily turn into a new life. Silver View RV Resort is close to big-city attractions and entertainment in Bullhead City and Laughlin, Nevada. Enjoy affordable luxury living with hiking, biking, fishing, golf, sky-diving, and the scenic drive on Christmas Tree Pass in the great Arizona outdoors any time of the year. View the current listings and request a showing.