The Beach in Bullhead City
Ever wondered if there is a beach in Bullhead City? Yes, there is! And you can go there seven days a week. Bullhead City Community Park has a beautiful beach on the Colorado River. The daily parking fee is $20 for non-residents. Bullhead City residents (that's you when you purchase a home at Silver View Resort) get in free.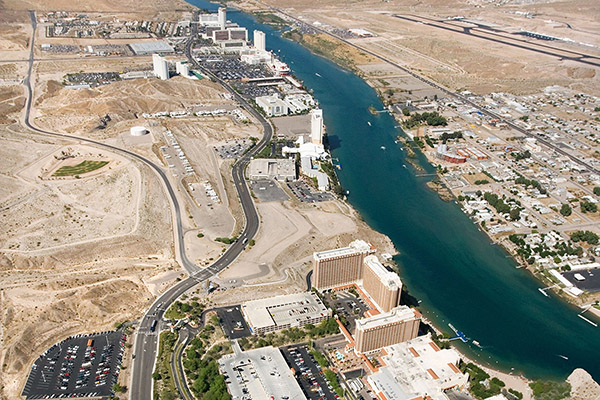 What's at the Beach in Bullhead City?
Community Park is a 376 acre parcel of land along the Arizona side of the Colorado River. Located at 1251 Highway 95, the park offers almost a mile of buoy-protected swim beach, a three-lane boat launch with wipe-down area, baseball field, a fish-cleaning station, public restrooms, dog park, and Bravo's Last Stop Shop – a convenience store with snacks, drinks, T-shirts, and souvenirs.
In addition to swimming, boating, fishing, and jet-ski rental, there are two fascinating museums at the beach in Bullhead City. Community Park is also the home of the Colorado River Museum and the historic Little Red Schoolhouse.
Here's What Beach-Goers Say
Great little park right on the Colorado! Huge grassy area with some tables and trees to picnic or just play with your kids or dog, and a "beach" area where you can set up a blanket and hang out for the day. – Heather G on Google
I love Bullhead City community Park! If you have not been there lately you need to go. The city has done a lot of work on the waterfront. They have created a beach type atmosphere with picnic areas and barbecue pits. They have opened up the store, it looks like they sell a variety of things, suntan lotion, beach stuff, food, and everything you need to hang out at the beach. You can launch your boat and enjoy the river all day. – Therese M on Google
Took my grandkids and had a great time. – Patty R on Google
The Beach in Bullhead City is Almost Outside Your Door
Open the door of your new home at Silver View, step out into the sunshine, and marvel at the Colorado River. Its life-giving waters sustain millions of desert-dwelling people and animals, and provide the perfect way for you to enjoy all your favorite water sports.
When you combine river-lore with our deluxe amenities, the fabulous desert scenery, and the beach in Bullhead City, you will have found the home of your dreams. View the listings and come home to Silver View.